1/18/08, 6:45 AM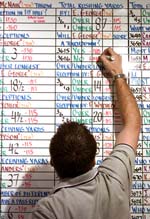 The Conference Championships are always more exciting than the Super Bowl. If you are coming in town this weekend, here are some tips about the games:
1) You don't have to go to a Sports Book to watch the games.
Since there is only one game on at once, not like a normal NFL sunday, there is no need to have mulitple tvs to watch one game. Hit the casino bars, resturant bars, or gentleman's clubs if you find the sports book too packed. You will find some guys that stay up all night in the sports book just to have a seat. Don't be one of these guys.
2) Make your bets early.
There is so much wagering on the games, that the lines won't be moving. If you like a team, place a bet the night before, so you won't have to wait in a 30 min line at the Sports Book.
3) Get comfortable with a table.
While watching a game for a few minutes standing up is ok - to stand through 6 hours of games just won't work. Establish a base camp for your group, like a table in the Casino's Center Bar. That way, some of your group can wander off to do other things and always return for a good view of the game.
4) Play Table Games while you watch
Some casinos have plasma tvs right at the Black Jack tables. I like watching games at New York New York while playing a little Pai Gow Poker.
Back
Next